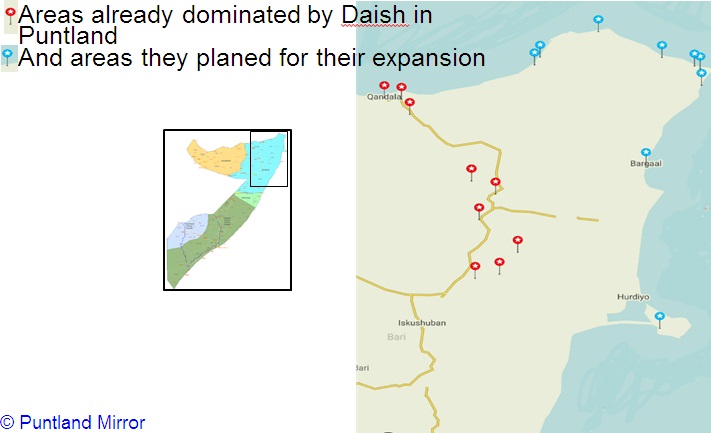 Garowe-(Puntland Mirror) Puntland government forces destroy a military base near Qandala used by ISIS militants also called Daish, killing four fighters, an official said.
Speaking to VOA Somali, Admiral Abdirizak Dirie Farah, the commander of the Puntland Marine Police forces, said forces launched an attack on the base in El Ladid, a village 30 kilometers south of the port town of Qandala.
"During the fighting, we have successfully destroyed the base where the militants were regrouping and making a military buildup," Farah told VOA's Somali Service.

"The militant chose this strategic remote mountainous area (in El Ladid) for their stronghold and hide out and to launch their attacks. Once we got the news about their military build-up we have attacked them, killing four militants, and one of our soldiers was wounded," Farah added.
The attack came less than two weeks after Puntland government forces recaptured Qandala coastal town of Bari region, which fell to ISIS in October this year.
The one year old ISIS of Puntland led by ex-Al-Shabab leader Abdikadir Mumin was initially a group of Al-Shabab defectors, as experts told Puntland Mirror the group contains 250-300 fighters.