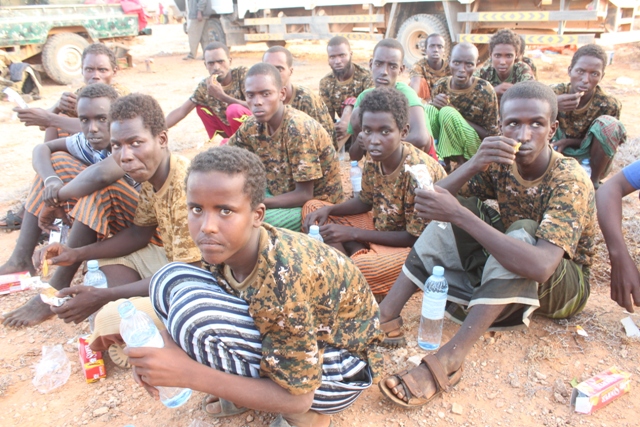 Secretary-General Antonio Guterres says he is alarmed at reports that children may constitute a large part of the force recruited and used by al-Shabab Islamic extremists in Somalia.
Guterres said it is estimated over half its force are children, citing as an example that at least 60 percent of al-Shabab "elements" captured in Somalia's semi-autonomous Puntland region in March 2016 were youngsters. Some of those children said they were approached with the promise of education and jobs, he said.
Somalia has been trying to rebuild after recently establishing its first functioning central government since 1991, when warlords overthrew a longtime dictator and plunged the impoverished nation into chaos. But the country is riven by clan rivalries and threatened by al-Shabab extremists opposed to Western-style democracy.
In a report to the Security Council circulated this week, the U.N. chief said al-Shabab used children in combat, with 9-year-olds reportedly taught to use weapons and sent to front lines. Children were also used to transport explosives, work as spies, carry ammunition or perform domestic chores, he said.
While al-Shabab was the main perpetrator, the report said the Somali army and other groups also recruited and used children.
According to the report, a task force in Somalia verified the recruitment and use of 6,163 children — 5,993 boys and 230 girls — during the period from April 1, 2010 to July 31, 2016, with more than 30 percent of the cases in 2012. After a downward trend in 2013 and 2014, the number of youngsters recruited increased to 903 in 2015 and to 1,092 in the first six months of 2016, it said.
Al-Shabab accounted for 70 percent — or 4,213 — of verified cases, followed by the Somali National Army with 920 children recruited, it said.
Guterres said he is "deeply troubled by the scale and nature of grave violations against children in Somalia and their increase since 2015." He urged all parties to stop recruiting children and committing violations against them and to abide by international humanitarian and human rights law.
The report said al-Shabab targeted poor children who lacked opportunities, recruiting primarily in rural areas of southern and central Somalia, frequently at schools, madrasas, mosques and religious events. "Teachers were often coerced into enlisting pupils," it said.
Guterres cited reports of recruitment of children from madrasas in refugee camps in Kenya, of young boys disappearing en masse from al-Shabab-run madrasas and of entire villages forced to give up their children to the extremist group.
"Children recruited and used by al-Shabab were victims of or were exposed to other grave violations including killing and maiming during military operations and air strikes targeting al-Shabab, and subjected to arrest and detention by Somalia security forces during military or search operations," the report said.
As for the Somali National Army, the report said, despite signing an action plan in 2012 to end child recruitment, it continues to recruit and use youngsters including as spies, checkpoint guards and bodyguards. It said al-Shabab has executed children suspected of spying for the army or the African Union peacekeeping force in Somalia.
Source: Associated Press