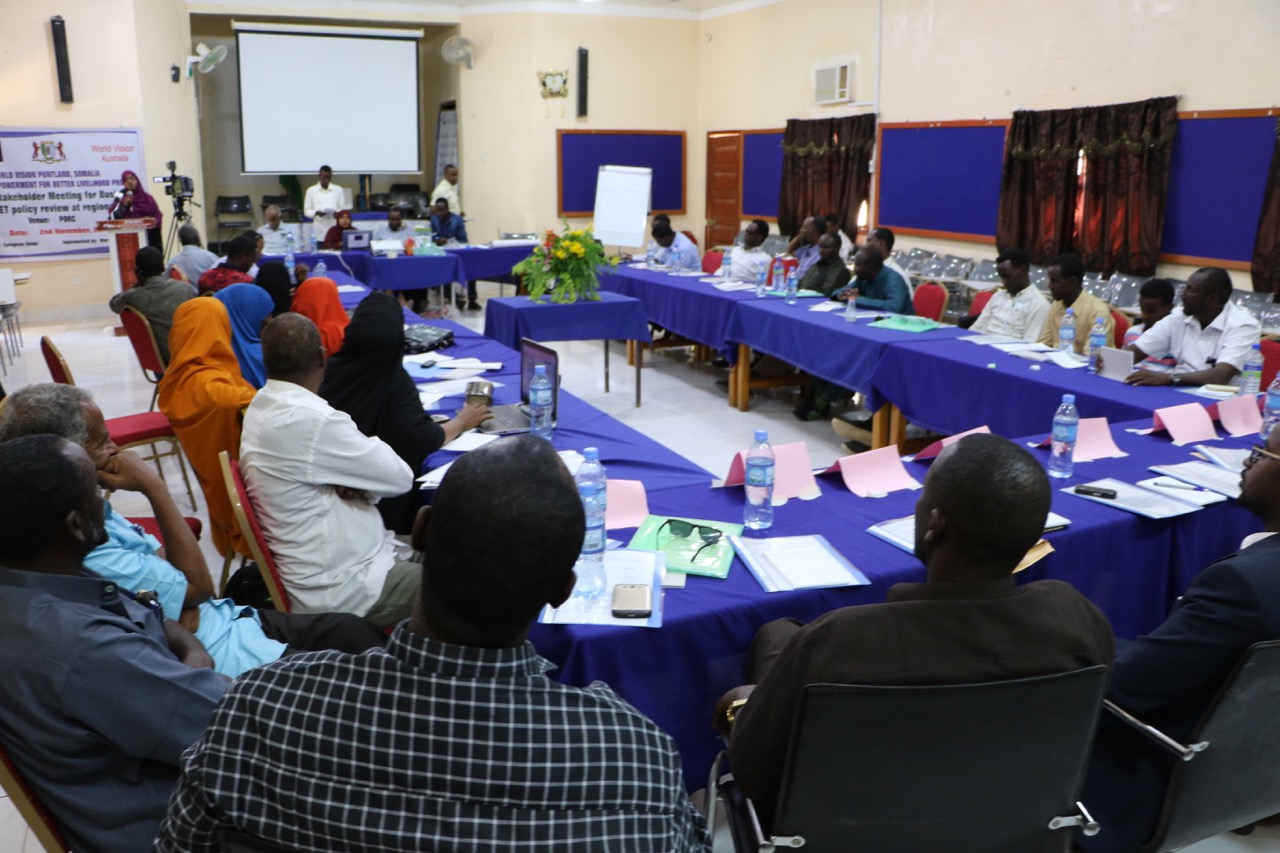 Garowe-(Puntland Mirror) A stakeholder policy review meeting on Business challenges and update at regional levels implemented by World Vision Somalia held at PDRC (Puntland development and Research center) in Garowe on Wednesday morning.
Briefly, the Discussion's objectives were included:-
To bring together different stakeholders of the community members, in order to make policy review and update at the state and regional levels.
    2. To discuss different stakeholders of the community members in the review and update policies in effecting their livelihoods and
  3. Participants to review learn and understand relevant policy affecting their livelihoods.
The meeting was witnessed by the project's stakeholders, including officials from World Vision Somalia, Puntland's deputy minister of Labor, youth and Sports, Abdirizak Shire Ismail, business family and governors of Eyl, Burtinle and Dangorayo of Nugal province.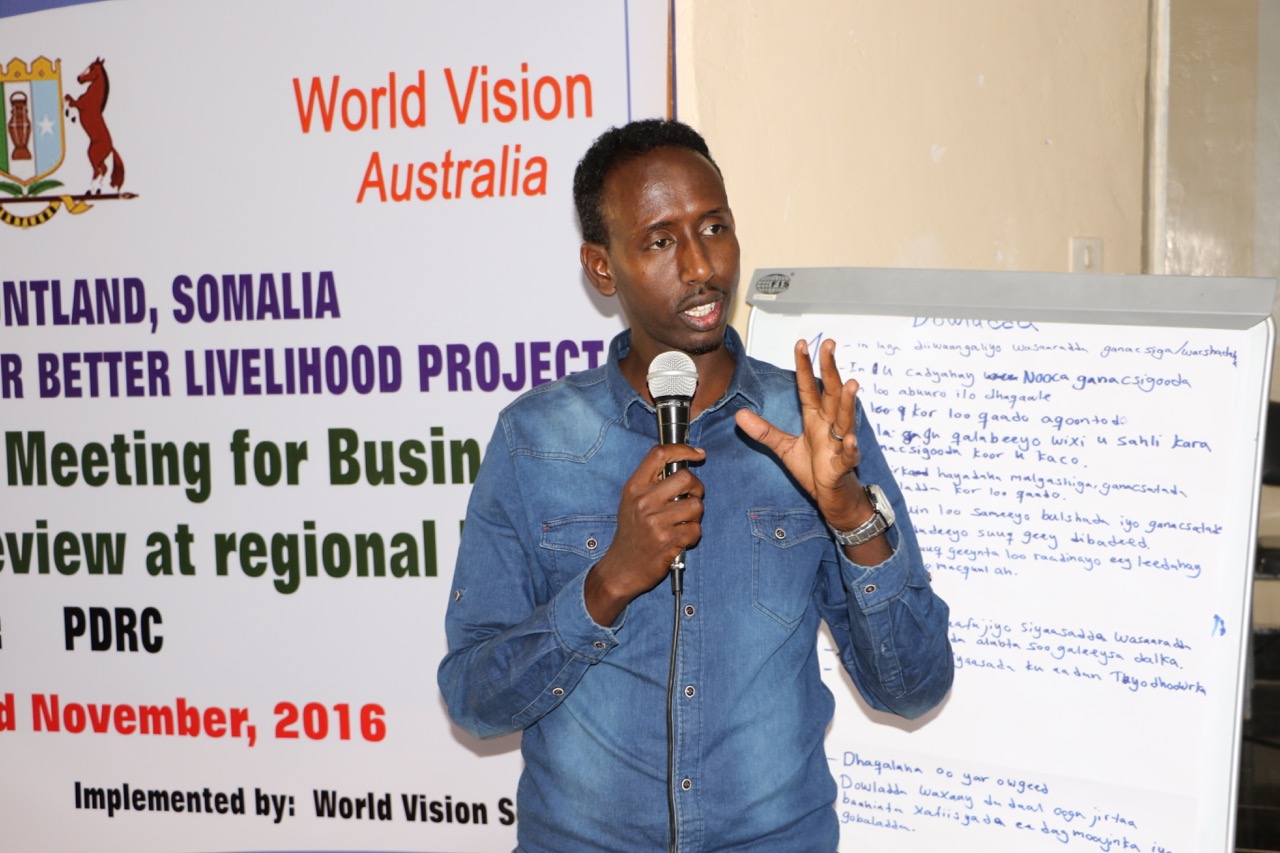 There were many respective officials talked at this policy review meeting, some of them, these are what they had to say, Ahmed Mohamed Farah also known as (Jokar), World Vision's Nugal empowerment livelihoods project coordinator suggested that "on this workshop, We, as World Vision aimed to review and discuss on the region's small businesses' policy for the livelihoods betterment by bringing the project's stakeholders comprised district representatives, the government, district governors and business people .
Today, it is new milestone for all of us. We are here to highlight the business challenges we might face, different business scenarios and ways forward all together''. He added "We consider it a golden opportunity to bring all of you on board, and therefore we are looking for your inputs.I than you indeed''.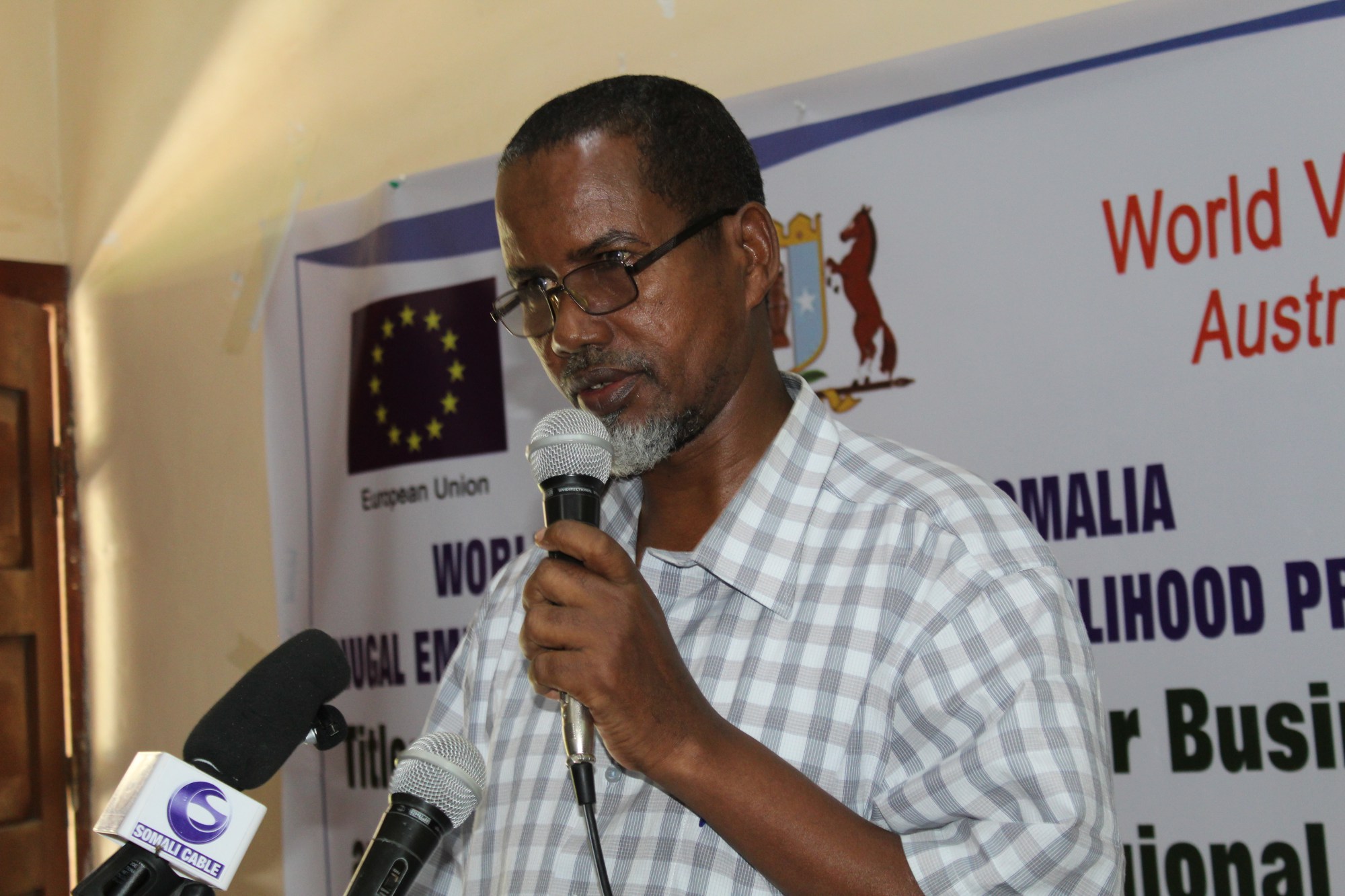 Speaking at this policy review meeting in Garowe on Business development in Nugal province implemented by World Vision Somalia under the fund of the European Union, Puntland's deputy minister of labor, youth and sports, Abdirizak Shire Ismail said that "I thank to World Vision Somalia for its commitment on serving for the greater Puntland people. This business policy review meeting is to look at the existing business challenges that face the small businesses. It's a great move, therefore I appeal to the participants to come up fruitful policy initiatives that would develop the existing small businesses in this region''.
As this wonderful ever discussion on the region small businesses development policy review meeting was going on, the governors of Eyl, Dangorayo and Burtinle all spoken same language, saying that this golden project has undergone their managing districts smoothly, benefited by the local small business owners, and of whatever skills and fruits they receive from this update review meeting will return to their corresponding areas.
However, World Vision has been operating in the larger Somalia since 1992 and in Puntland region in particular, since 2010. World Vision Puntland is implementing a project (Nugal Empowerment for better Livelihood project) which is funded by the European Union.
This huge project, Nugal's empowerment for better livelihoods started on January 2015, and it is expected to end on September, 2017. This project covers districts including, Dangorayo, Burtinle, Garowe, Godobjiran and Eyl, hence World Vision Somalia partners this project with the ministry of labor, youth and Sports for the region's small businesses betterment.