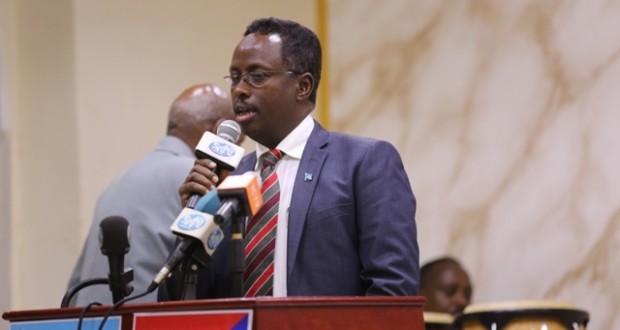 Mogadishu-(Puntland Mirror) Somalia's information minister has said on Saturday that the Somali political leaders will hold meeting in Mogadishu next week.
Minister Mohamed Abdi Mareye told Somali national news agency (Sonna) that the meeting about the the election process will be held in the capital at the beginning of August 2016.
"This forthcoming national conference which will be held in the Somali capital Mogadishu on the 2nd to the 4th of August 2016 will be a crucial conference, and it is basically about listening to the concepts of the national electoral commission, and I highly hope that their concepts will be a very beneficial one which will take Somalia forward" Minister said.
The minister has also added that all the Somali political leaders will participate the meeting.
According to the diplomatic sources told Puntland Mirror, the Somali presidential election is expected to be delayed until December this year.
In June, the Somali political leaders met on Baidoa town of South West in Somalia and agreed that the Somali presidential election will be held on September 10, in accordance with the constitution.
During the Mogadishu meeting, the Somali national electoral commission is expected to set a new date for the election.