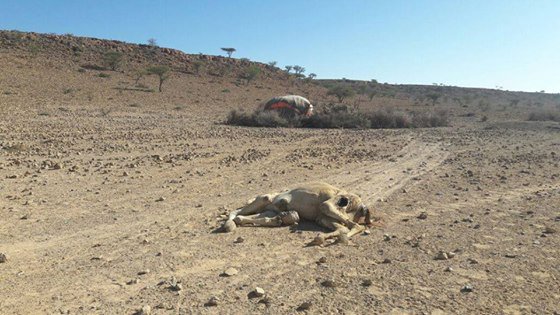 Garowe-(Puntland Mirror) Puntland regions are facing its worst drought in 15 years, pastoralists said.
According to the pastoralists the grass and water shortage has caused the death of livestock.
"The animals are dying of hunger and so are the people because they were our source of survival," Osman Said, a nomad pastoralist in Ayah Valley of Nugal region told to Puntland Mirror.

"We can't sell our livestock as there is no market, we can't feed them because they are very slim, we are in difficulty situation," the nomad added.
In Puntland and whole the country, the loss of livestock means the loss of income.
Earlier this month, in Karkar region, at least two people dead due to hunger and thirsty, according to the local humanitarian officials.
Nugal, Bari, Mudug, Sool and Karkaar regions are the worst affected by the current drought.
The failure of the Deyr rainy season, usually October to November, has caused the drought that is expected to get worse in the coming months.