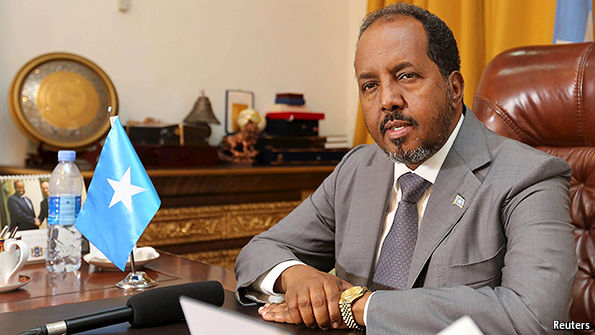 Mogadishu-(Puntland Mirror) Somali President Hassan Sheikh Mohamoud has condemned the recent terrorist attacks on Saudi Arabia.
"On behalf of the Federal Republic of Somalia and the Somali people, I am deeply shocked and saddened over the terrorist attacks in holy land and share the pain and grief with our Saudi brothers and sisters'', President Hassan Sheikh Mohamud said in statement.
The President stressed that the Arab world, the Muslim countries and the rest of the world should unite at this critical period to curb terrorism.
''During this holy month of Ramadan we have witnessed disastrous terrorist attacks carried out by the enemies of humanity and civilization. This has to come to an end. We need to cooperate and renew our collective efforts to eliminate the menace of terrorism. Somalia strongly stands firm against terrorism, and as one of the countries affected by this threat, we will not hesitate to contribute to the global fight against terror''.
President has concluded his message by offering his heartfelt condolences to the families, friends and loved ones of all the innocent victims who were affected by this evil tragedy.
At least four security officers have been killed and five others wounded in a suicide attack outside the Prophet's mosque in Madina, Saudi Arabia's interior ministry said.
"Four security guards were martyred and five others wounded as a result of their opposition to the suicide attacker who detonated explosives near them as he was on his way to the mosque," the ministry said on Twitter.
The blast struck moments before sunset prayers when people were breaking their fast inside the mosque.
The Prophet mosque, which is also known as Al-Masjid an-Nabawi, is visited by pilgrims from around the world during the final days of the fasting month of Ramadan.