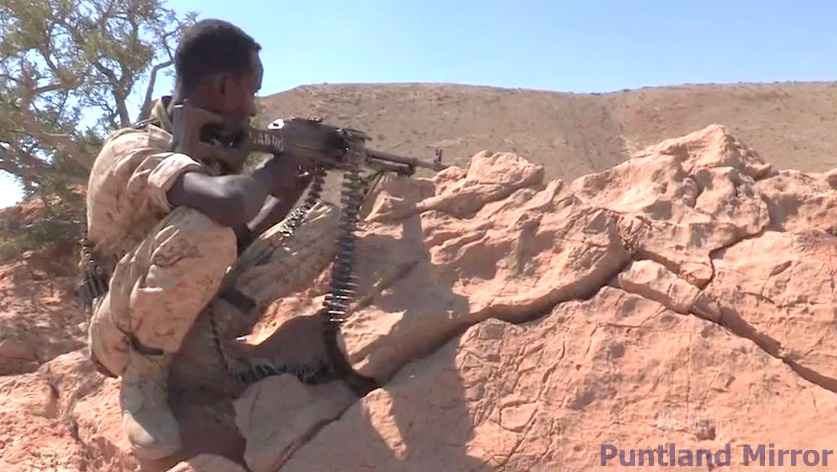 Garowe-(Puntland Mirror) The combat between Puntland government forces and Al-Shabab militants had started in 2010, the combat broke out after militants led by Ex-Al-Shabab commander Mohamed Saeed Atom seized Galgala village.
After about three weeks of heavy fighting, Puntland forces recaptured Galgala village in early August that year.
After the recapture of the village, which was a militia base, the Atom's militants escaped to the mountainous areas near the village.
Since late 2010, the armed group continues to launch deadly guerrilla assaults in the mountainous areas, and terror attacks in the major towns of Puntland.
Meanwhile, Puntland forces are always carried out operations in a bid to eliminate the militants, and they killed dozens of Al-Shabab fighters in the clean-up operation.
In June 2014, the former leader of the group Mohamed Saeed Atom had surrendered to the Somali government in Mogadishu, and he promised to be a peaceful man, but the Galgala combat is continued.
In October 2015, a group of about 20 fighters led by Ex- Al-Shabab top commander in Galgala Mountains Sheikh Abdikadir Mumin declared of their allegiance to ISIS group, the move brought divisions to the Al-Shabab combatants who are fighting at Galgala Mountains in Puntland, since 2010.
The Galgala fighting was the first time Puntland's forces have fought with Al-Shabab.
In March 2016, hundreds of Al-Shabab fighters attacked several coastal areas in Puntland including Gara'ad village in Mudug region and Suuj village in Nugaal region. The attackers was defeated by Puntland forces, killed more than hundred while dozens of others mostly children arrested in life.
In response to March's defeat, in August 2016, Al-Shabab carried out suicide bomb attack on marketplace and H.Q of local government in Galkayo town of Mudug region, at least 30 people mostly civilians were killed in the attack.
At least 35 Puntland soldiers and other civilians were killed when Al-Shabab militants attacked on Af urur army base in Galgala Mountains on Thursday morning, the attack was the latest Al-Shabab violence against Puntland, and was the most horrible single day of losses for Puntland since 2010.