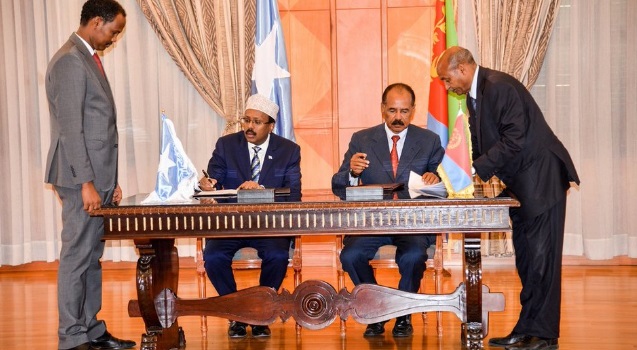 Asmara-(Puntland Mirror) Somalia President Mohamed Abdullahi Farmaajo and his Eritrean counterpart Isaias Afwerki have signed an agreement in Asmara on Monday.
The agreement consists of four major points:
1. Somalia is endowed with a strategic location and vast human and natural resources. However, it has been hampered in realizing its potential due to internal problems and external intervention. Thus, Eritrea strongly supports the political independence, sovereignty and territorial integrity of Somalia as well as the efforts of the people and government of Somalia to restore the country's rightful stature and achieve the lofty aspirations of its people.
2. Somalia and Eritrea will endeavor to forge intimate political, economic, social, cultural as well as defense and security cooperation.
3. The two countries will establish diplomatic relations and exchange ambassadors, promote bilateral trade and investment, as well as educational and cultural exchanges.
4. Eritrea and Somalia will work in unison to foster regional peace, stability and economic integration.
Somalia and Eritrea have not had diplomatic relations for nearly 15 years.
On Saturday, Farmaajo paid a three-day visit to Eritrea, becoming first Somali sitting President to visit there.