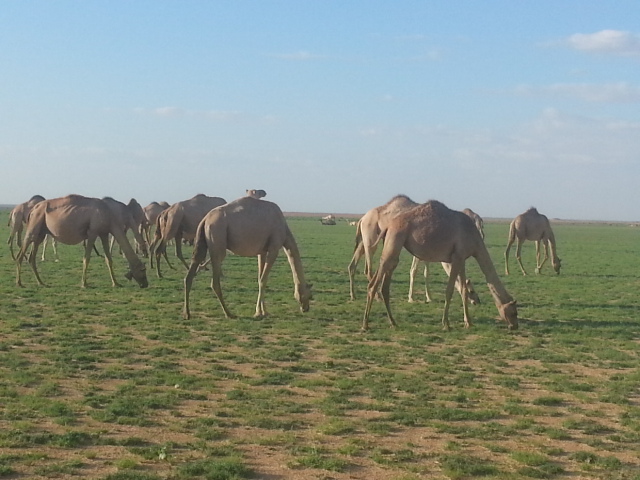 Garowe–(Puntland Mirror) The local community in Gelinculus have opposed a WFP project proposal to dig a borehole in their grazing rangelands in Nugal valley.
The traditional elders and other members of the community has signed a rejection letter to WFP, the funding agency and Puntland Ministry of Agriculture, the implementing agency.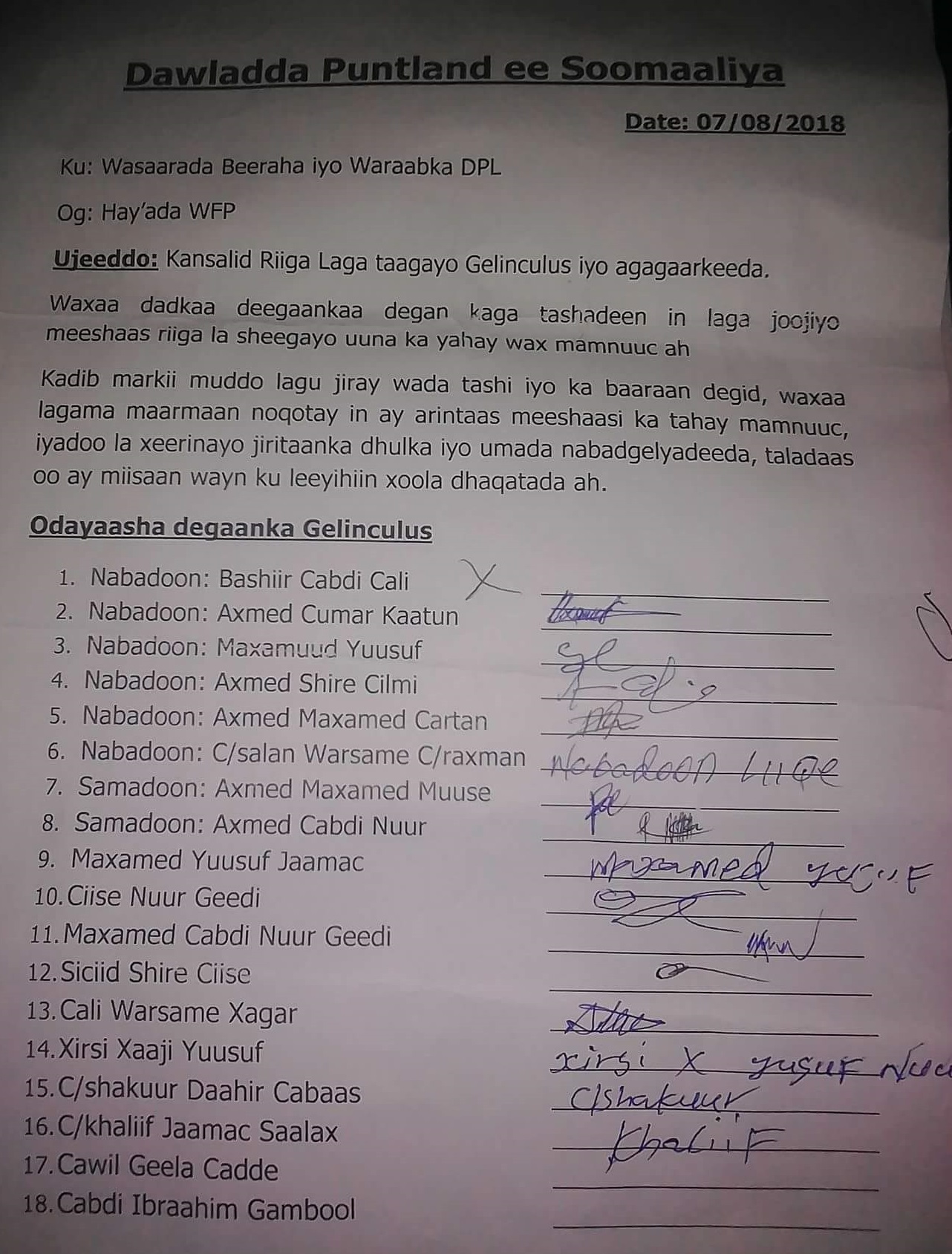 In an interview with Puntland Mirror, Iise Nuur Geedi, a prominent traditional elder "Nabadoon", has confirmed that this grazing rangeland does not need a borehole and has warned of the perils of any attempt to dig a borehole in this nomadic grazing land.  
"We have protested against the digging of the borehole in the center of the Gelinculus valley", said Nabadoon Iise. "The concerns and objections of the local community, traditional and tribal elders and other grassroots people must be considered".
Nabadoon Iise has described the area as "a productive nomadic livelihood zone with access to sufficient water from streams, watercourses and shallow wells". He said, "Gelinculus is a home to a thriving nomadic community and is located between the four watercourses of Cuun, Siigodheer, Caanoyaskax and Timir. It does not need a rig. There are drylands elsewhere in the region which badly need a borehole".  Nabadoon Iise has indicated that the creation of new villages had already wreaked havoc on the grazing lands in many parts of the region. 
Hussein Haji Yusuf, an environmental activist in Garowe, has warned the villagization of the grazing lands like Gelinculus. He said that "unless there is a genuine need of water, the digging of this type of borehole in grazing land cannot be justified. The location of boreholes generally transforms into a permanent settlement which can herald the destruction of the countryside such as the destruction of native vegetation, desertification, soil erosion, gully formation and other land degradation. It can potentially instigate violent conflict in the community over the use and ownership of land.  I am concerned that this borehole and its insidious villagization might cause environmental catastrophe that will put the lives of thousands of pastoralists at risk".
Salah Mohamed, a local community member, argues that "the devastating effects of creating permanent settlements such as villages, land-fencing and unsustainable farms in these rural areas pose far greater risks than any benefits that this borehole may bring". 
He has complained that "they were not consulted on the project and that no basic needs assessment or environmental risk assessment were carried out".  He described it as "a black market, improper scheme to misuse donor funds".
Nabadoon Iise said that "few days ago, WFP visit in the area nearly caused uproar and clashes which could easily bring about violent confrontations. I was informed that a shot was even fired. The nomadic people in the area are armed, therefore we (the traditional elders) do not welcome any action that can cause unnecessary dispute, disharmony and violent clashes that may lead to death or injury among the community. That is the reason we have raised the alarm and registered our objection to this borehole". 
In 2011, a violent conflict between two tribes over the villagization of Gambayax grazing land just 2 kms from Gelinculus resulted in death and injury on both sides. The conflict later spread to Garowe city where some revenge killings have taken place.