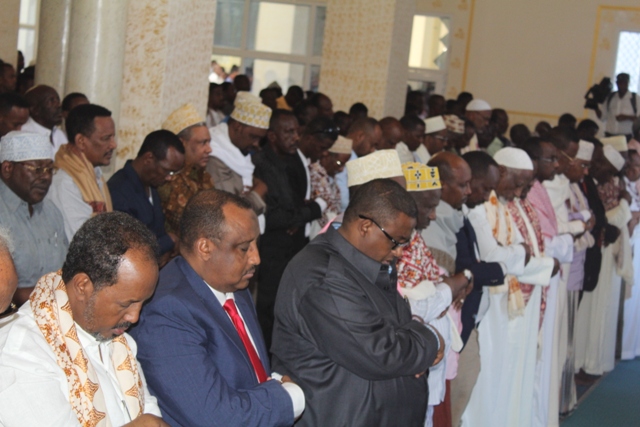 Mogadishu-(Puntland Mirror) Somali President Hassan Sheikh Mohamoud along with Puntland President Abdiweli Mohamed Ali and Somali Premier Omar Abdirashid Ali Sharmake has performed on Monday the prayer of Eid Al-adha at Isbahaysiga mosque in the Somali capital, Mogadishu.
The Eid prayer was also attended by the Somali parliament speaker, Mohamed Sheikh Osman "Jawari" and other government officials.
After the Eid prayer, the Somali President congratulated the Somali people on the event of Al-adha and urged to the almighty Allah to give the country reconciliation, union and stability.
Hassan Sheikh also spoke issues related to the situation in the country especially in terms of security and Al-Shabab attacks.
President Mohamoud has sent a message to the young fighters of Al-Shabab armed group and urged to lay down their weapons and join their people.
Finally, Somali people across the country are celebrating the Eid Al-adha holiday, which marks the end of the hajj pilgrimage.