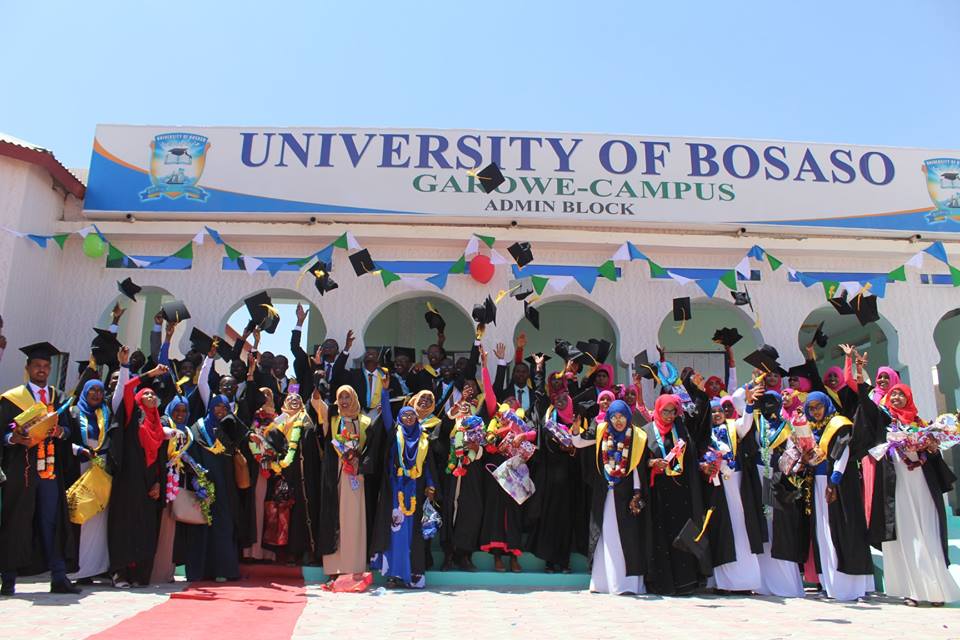 Garowe-(Puntland Mirror) Over 200 students have graduated on Sunday and successfully finished their undergraduate studies from Bosaso University's different faculties in Garowe.
The 25th colorfully convocation was held in Bosaso's newly built main campus in Garowe has witnessed by the Puntland president, Abdiweli Mohamed Ali, and other hundreds including government officials, and civilians.
President Abdiweli has welcomed of today's graduation ceremony and congratulated to all the graduating students, and thanked to University's management for this tireless efforts of making this a reality.
"I thank you all for your invitation. I thank also for those who make this amazing ceremony to happen. I'm extremely humbled of the fact that, ground breaking of the University's Garowe campus last year, now seeing it completed and making graduations, it is a noble thing; I applaud on that. I hugely graduate for these young men and women who are graduating today. I'm saying to you all, congratulations!."
The President also encouraged the graduates to work for the local communities in Puntland.
"You must use of your skills and knowledge to save and work for your community, every one of you has a role to play in day-to-day activities." 
Also officials from the International Universities who have working relationships with the University, including the Islamic University in Uganda (IUIU), and Mount Kenya University in Kenya were guests of honors in today's Convocation.
Puntland Mirror has learnt that, Bosaso University Garowe campus which was officially opened on 2013 has made tremendous academic achievements. In the year 2017, the University has received the biggest students enrollments compared to the other local universities in Garowe.