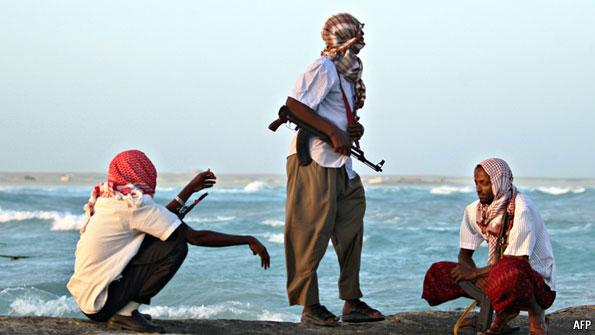 Garowe-(Puntland Mirror) Two dead bodies were found in Daruro coastal village of Sanaag region, residents in the area told Puntland Mirror by phone.
The two dead bodies were left by the Somali pirates near the coast on Sunday morning, according to the residents.
AP news agency quoted a Puntland anti-piracy force source Sunday saying the foreign naval forces in international waters off Somalia's coast shot dead two pirates and wounded another when the pirates attempted to hijack a ship.
The two men were part of a group of nine pirates who were in a boast approaching an unidentified ship near the Gulf of Aden when a naval force opened fire on them, according to the source.
The six other pirates survived the attack and escaped, source told AP.
Over the past weeks, Somali pirates have stepped up its attacks against commercial ships sailing in Somalia waters.
In recent, speaking to the local media some of the local fishermen threatened to take up guns another time and return piracy to battle what they called "the foreign trawlers."