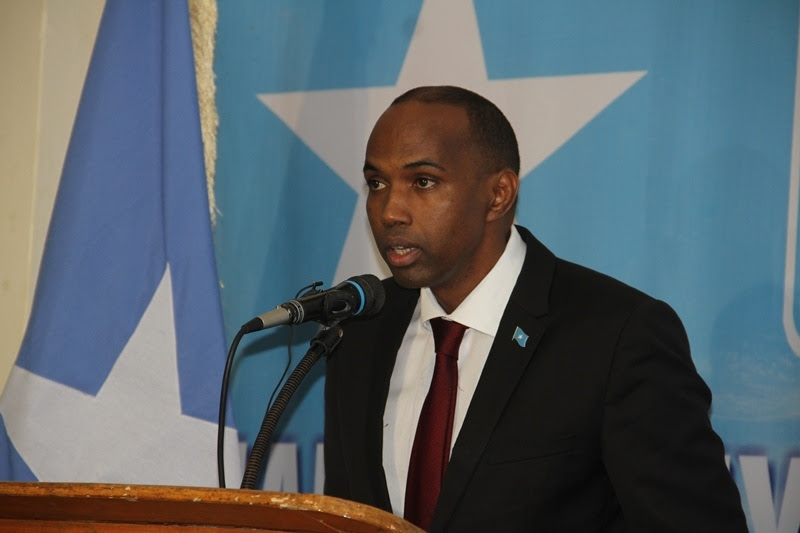 Mogadishu-(Puntland Mirror) Somalia's Premier Hassan Ali Khayre on Tuesday announced his cabinet ministers.
Mr. Khayre made the announcement at a press conference in the Somali capital, Mogadishu. 
The names of the new ministers are:
Abdi Farah Juha – Interior Minister

Yousuf  Garad Omar – Minister of Foreign Affairs

Mohamed Abukar Islow – Minister of National Security

Jamal Mohamed Hassan – Minister of Planning

Abdirahman Duale Beyle – Minister of Finance

Khadija Mohamed Dirie – Minister of Youth and Sports

Abdirahman Omar Osman – Minister Of Information

Maryan Qasim Ahmed – Minister of Humanitarian Affairs and Disaster Management

Abdirashid Mohamed Abdullahi – Minister of Defence

Abdirahman Dahir Osman – Minister of Education and Higher Education

Abdirahman Hosh Jibril – Minister of Constitutional Affairs

Maryan Aweys Jama – Minister of Ports and Aviation

Abdi Anshur Hassan – Minister of Posts and Technology

Sheikh Nur Mohamed Hassan – Minister of Livestock

Khadro Ahmed Duale – Minister of Trade and Industry

Abbas Sheikh Abdullah Siraaji – Minister of Public Works and Rebuilding

Abdirashid Mohamed Ahmed – Minister of Petroleum and Mineral Resources

Said Hussein Eid – Minister of Agriculture

Fawzia Yusuf Haji Nur – Minister of Health and Social Welfare

Hassan Hussein Haji – Minister of Justice

Saleh Ahmed Jama – Minister of Labour and Employment

Salim Aliyow Ibrow – Minister of Electricity and Water

Iman Abdullahi Ali – Minister of Religious affairs

Deqa Yasin Haji Yousuf – Minister of Women and Human Rights

Abdirahman Abdi Hashi – Minister of Fisheries and Marine Resources 

Mahad Ahmed Guled – Deputy Prime Ministe  
Six of the new ministers are women.
The new cabinet ministers will face a confidence vote in the parliament next days, according to the Somalia's constitution.