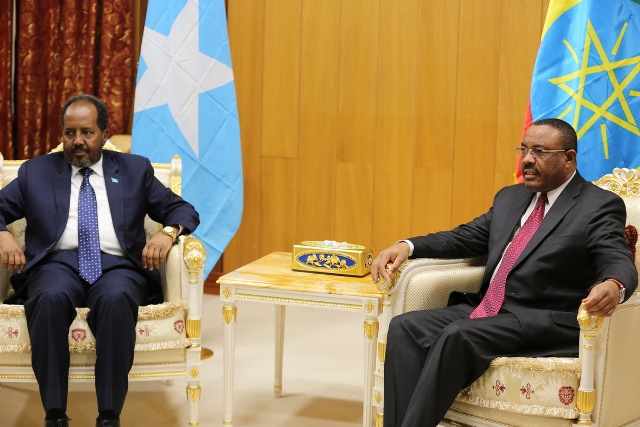 Mogadishu-(Puntland Mirror) Ethiopia has sent top diplomats to Somali capital Mogadishu to help the reelection of Hassan Sheikh Mohamoud , according to reliable sources who requested anonymity confirmed to Puntland Mirror.
"Our neighbor Ethiopia has sent top diplomats to Mogadishu to help that president Hassan Sheikh Mohamoud is reelected," said the sources, who declined to be named, due to the sensitivity of the matter.
"It is not known why Ethiopia supports Hassan Sheikh Mohamoud." The sources added.
According to sources, it named the diplomats as Reda Getachew, Dr. Metiku Arkebe and Solomon Sulu.
Puntland Mirror understands that the incumbent president has a good relationship with Ethiopia.
This comes three days after the Somali Prime Minister and presidential aspirant, Omar Abdirashid Ali Sharmarke has accused the neighbouring countries of intervening in the country's presidential election, but he did not mention that countries.
The incumbent president Hassan Sheikh Mohamoud and the current Prime Minister Omar Abdirashid Ali Sharmake are among 23 candidates competing for president.
Somalia's presidential election is set for February 8.