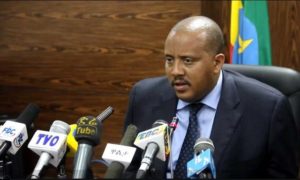 Ethiopia has said that its soldiers deployed in Somalia killed 101 Shabaab fighters who on Thursday attacked an army base used by the African Union force fighting the Al-Qaeda linked group.
The Shabaab movement earlier announced a major assault on the base in Halgan in the central Hiran region of the arid Horn of Africa nation, via its Telegram messaging platform.
Ethiopian government spokesman Getachew Reda dismissed a claim by the Shabaab that they had killed dozens of soldiers, while losing just 16 of their own fighters.
"There was an attempt by al-Shabaab to attack our forces in central Somalia but… our forces killed 101 militants and destroyed heavy weaponry," Getachew said.
"We are still assessing how many people got hurt on our side but their claim that they have killed 43 Ethiopian soldiers is an absolute lie. This is a figment of their imagination," he added.
"The Mujahideen fighters stormed the base and massacred many of the Ethiopians," the Shabaab claimed on Telegram, putting the death toll among the troops at 60.
Casualty figures from this type of attack are impossible to verify independently. The Shabaab generally exaggerates, while the African Union Mission in Somalia (AMISOM) usually gives no details of losses among its ranks.
Source: AFP