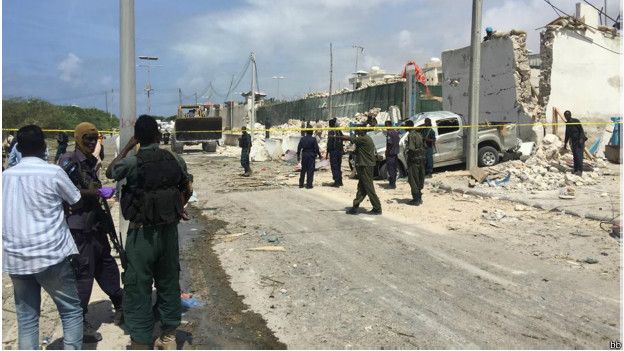 Mogadishu-(Puntland Mirror) At least 15 people, including security guards of Amisom and UN were killed after two huge car bombs was exploded outside the Halane base of Africa union forces in Mogadishu, witnesses and officials said.
The armed group, al-Shabab, has said it was behind the explosions and its target was the Amisom's headquarters in Mogadishu.
"Our Mujahideen targeted Halane which is base to the foreign forces occupying our Muslim country. We have killed dozens of them," al-Shabab's Abdulaziz military operations spokesman, Abu Muscab told Aljazeera.
Meanwhile, Abdifatah Omar Halane, spokesman for Banadir administration, said dozens of people were killed in the attack saying "Nine of UN security guards were among those killed in the two suicide car explosions."
Halane is the largest Amisom's base in the Somali capital, Mogadishu and close to Adan Ade international airport.